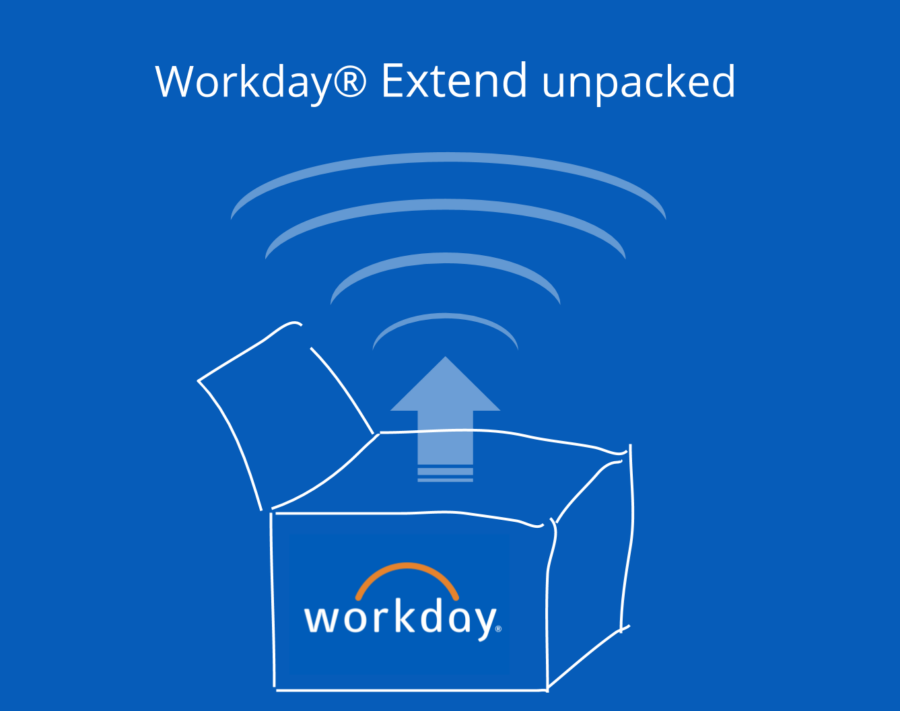 Workday® Extend is the newest arrival to the Workday® platform. A powerful low-code tool, Extend is the new generation of what was previously known as WCP (Workday® Cloud Platform). Here, JumpModel delves into the exciting features of Workday® Extend, and explores a variety of ways it can benefit, and elevate your organization from the core.
A snapshot of low-code
Low-code is a buzz-word term that essentially means very little or no-code is needed to build custom solutions. It's a phrase used to refer to applications that facilitate the building of websites, or subsequent applications while minimizing the need to write custom code.
This can save the designer loads of time, while also offering a massive array of unique solutions specific to the organization's needs.
As such, Workday® Extend software allows administrators to create apps with hyper-specific functionality without having to write tons of custom code. This equips you with the ability to build solutions for unique use cases in a fraction of the time and truly offer the ultimate customization capability for your Workday® team.
Breaking down the exciting features of Workday® Extend
Workday® Extend can be used in a wide breadth of ways – offering solutions to unique use cases for businesses and organizations of all varieties. Before delving into some of the specific use cases for which Workday® Extend can be used, there are organizational benefits above and beyond the actual solutions themselves.
Centralized
Because Workday® Extend is an element of the Workday® software, there is an innate data centralization that occurs. Workday® Extend has immediate and unrestricted access to the data stored by Workday®.
This translates to applications that are more informed, and more aware of context without the need for sustaining integrations.
Seamless
Since Extend facilitates the building of applications through the Workday® platform – it is essentially a nested application. In other words, the applications released are housed on the Workday® platform.
With this arrangement, users have a nearly identical experience using the applications built by Workday® Extend as they do using other Workday® features. This is crucial because it saves time on training, and other resource dependent activities that add up over time.
However, users already accustomed to using the Workday® platform won't be able to tell the difference when using an application built by Workday® Extend.
Scaled
Workday® already has a scaling feature. The more an organization grows, their applications grow with them. Automatically, and without the need for extra hardware. A massive benefit to organizations implementing Workday® Extend applications.
There's no need to worry about outgrowing the applications, or running into a limit on licenses. With Workday® and Workday® Extend, rest assured, your business will be in good hands no matter how big you grow.
Secured
Security is always a hot topic; especially in the world of software and technology. With our data being one of the most valuable commodities in the market, companies and individuals are more security-conscious now than ever before. And rightfully so.
Workday® Extend benefits from the same security features included in the Workday® platform. Since organizations are already trusting the platform with some of the most sensitive information they have, it's reasonable to give Workday® Extend the same amount of trust.
Reporting
The powerful Workday® reporting tool and dashboard can be used in succession with Workday® Extend to run and build reports from Workday®. This enables you to integrate data from custom built applications and organizational-wide sources.
Example use cases
Getting to the crux of the matter, use cases and unique solutions might be the most exciting aspect that Workday® Extends offers. From retiring 3rd-party systems to replacing paper-based processes with their digital counterparts, Workday® Extend has a wide spectrum of practicality.
IBM – payslips
IBM is a massive company with employees located worldwide. A workforce scattered across the entire globe can make issuing payslips a bit convoluted. As such, IBM utilized the Workday® Extend function (with the help of consultants) to create a 2-click app that allows employees all over the world to access current and previous payslips.
This has eradicated the need for 3rd party legacy systems that relied on antiquated technology, while simultaneously boosting the employee experience by a significant margin. Plus, reissues are requested at a minimum, and there's less strain on the department overall.
Netflix – Supplier Managed Requisitions
Netflix, the entertainment giant, was using a fragmented data-keeping system that ran across multiple systems. The data was inaccurate, and employees had trouble keeping track of information in a timely manner.
Workday® Extend allowed Netflix to build a supplier requisition app that greatly simplified and streamlined their supplier purchase order request process. This has given employees better and more consistent access to credible and reliable data, while also drastically reducing the amount of systems involved in tracking information.
JumpModel and Workday® Extend
Workday® Extend is a truly innovative and exciting addition to the Workday® platform. With a simple and user-friendly low-code function, Workday® Extend makes it simple and easy for users to create hyper-specific applications for their organization. Being an element of Workday®, integration is seamless, and the user-experience should be familiar.
JumpModel is one of the premier resources for everything Workday® and Workday® Extend. Visit JumpModel, and get in touch with our knowledgeable staff to begin your Workday® journey today.